La Piccola is currently smallest footprint ESE pod coffee machine on the market that features the same quality components found in professional coffee machine.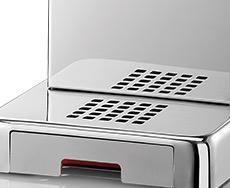 Professional quality espresso coffee, Eco-awareness and economy in use, due to the choice of paper pods and its ultra-low energy consumption.
The use of ESE coffee pods have a number of advantages:
no waste

minimal maintenance

perfect dosage and grind

eco-awareness coffee pods
easy to use
perfect coffee every time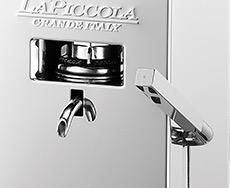 The typical problem found in other similar coffee machines, regarding the formation of limestone in the water tank, La Piccola solves this problem as this machine features a Glass Water tank
La Piccola is the smallest ESE coffee pod espresso machine hand made in Italy, ideal for small offices and domestic use.
Do not let it's small size fool you. This machine is Powerful, Robust and Stylish and packs a punch. You will be able to produce consistent quality espresso shots all day.
La Piccola works with standard ESE ( Easy Serving Espresso ) paper pods 44mm and features a special antibacterial filter that prevents the formation of limestone and odours that could affect the coffee flavour.
Perfect espresso extraction
Very simple to use
Fast, clean and healthy
Easy maintenance
Consistent quality every time
Authentic Italian method
Office, home, boat, caravan
Perfect for hotel rooms
Classic Italian design
Up to 50 espressos / hour
Uses ESE 44mm coffee pods
Low power usage
Very small footprint
Solid Stainless steel
Commercial coffee pump
Glass water tank
Colour: Silver or Gold / Stainless Steel
Weight: 5 kg
Power consumption: 500 watts
Note: This machine is hand made, special order - Delivery time: 5-7 working days from the time of ordering.
Special introductory offer: